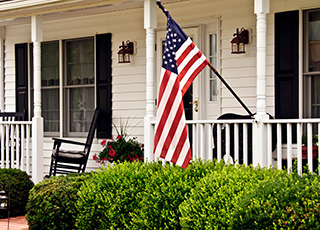 A home is one of life's most important investments.  Keeping it properly maintained can help reduce the risk of a loss and help ensure the safety and well being of friends and family.  Just in time for spring, Kelly Insurance Group and Travelers, a leading provider of auto and homeowners insurance, offer these maintenance tips to prepare your home for warmer weather and to keep it safe year-round:
Inspect your smoke detectors. Make sure that there is one on each floor of your home. Test them and change the batteries at least every six months, when you change your clocks.
Check the light bulbs in all your fixtures to be sure that they are the correct wattage as recommended by the manufacturer.
Replace lamps that use high-producing bulbs (such as halogen) with those that use fluorescent bulbs and operate at much cooler temperatures.
Check your electrical outlets for potential fire hazards such as frayed wires or loose-fitting plugs. Be sure not to overload electrical outlets, fuse boxes, extension cords, or any other power source.
Keep a multi-purpose fire extinguisher accessible that is filled and ready for operation.
Have your air conditioning system inspected by a professional as recommended by the manufacturer.
Check for damage to your roof, and clean gutters and downspouts to keep debris from accumulating.
Check your water heater for leaks and corrosion, and keep surrounding area clear.
Clean and/or replace your furnace filter.
Clean the clothes dryer exhaust duct and space under the dryer. Remove all lint, dust, and pieces of material or cloth.
Inspect washing machine hoses and replace hoses that show signs of wear or leakage with stronger reinforced hoses. Turn off the water when not in use to prevent water damage if a hose breaks.
In your yard, remove all dead trees and keep healthy trees and bushes trimmed and away from utility wires. Do not attempt to remove tree limbs from power lines yourself.  Instead, call your power company to request assistance.
Safely store oil and gas for lawn equipment and tools in a vented, secured area.
Repair driveway and walkways that are cracked, broken, or uneven to provide a level walking surface.
Established in 1984, Kelly Insurance Group is an independent insurance agency offering a full range of insurance products including Auto, Home, Life, Health, and Business Insurance.  Kelly Insurance is a member of the Spring Ford and Perkiomen Valley Chambers of Commerce and supports local Food Banks and First Responder groups in their community.
For information and quotes on insurance coverage, please visit www.kellyins.com or call 610-489-9442.